THE SHUPPY FAMILY FALCON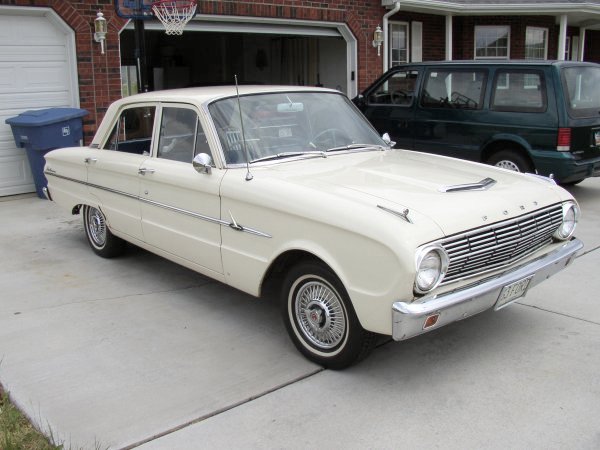 Many have a Falcon Story. Here is mine... I own a 1963 Falcon Fordor Sedan. It has the 170 Special Six engine with a "three-on-the-tree" 3-Speed Manual transmission. A basic model with the deluxe trim package added on. It was built on Sep. 12th, 1962 so was a early production car for '63. As a result, it has the "springless" hood hinges.
My father,
Eugene R. Shuppy
(1933-2011) purchased the car new from Harry A. Biznantz Ford in Azusa, CA after his mother passed away and the 100 acre family farm was sold in Brighton, IA. He then had the money to buy this car and a new home in San Dimas, CA for our young family. It was our family car for about 10 years and made many trips to Salt Lake City to visit our grandparents until we later moved to Salt Lake City. Here are photos of
ME
and my
DAD
washing our new Falcon in our driveway of our new home in San Dimas, CA in Oct '64. I'm the little guy. I remember sleeping on the rear package shelf during my youth on long trips, and actually scratched my name on the rear door paint right below the window (barely visible today). We had a family of six and they easily fit inside the roomy interior. I thought the rear ashtray on the back of the front seat was fun to open and close. I also liked the wing windows and the fresh air vents under the dash. This was our Air Conditioning!
My father worked for the U.S. Postal Service as a letter carrier and used the Falcon to deliver mail on occasion. The Falcon was parked in 1973 due to valve and front suspension problems. I purchased the car from my dad in 1975 for a sum of $150.00 and a year to work on it before I got my license. I loved the classic looks of the round body Falcon, and spent my high school years rebuilding just about everything mechanical. I am a purist Falcon guy, original equipment only for me. Spent all my money on this car and gathering NOS parts from Ford dealerships (on a teenagers meager income). Spent countless hours in bone yards in the late '70s when there were LOTS of Falcons to pick over! Drove the car until 1987, when I decided to put it away for a later restoration project. Well, the time has come. I started the restoration in the Summer of 2015. Part by part, bolt by bolt, it will become brand new again.
My Falcon Sedan gets pulled out of the garage 2-3 times a year to get a wash and some driving. I parade it twice a year and show it in a local car show. The paint is original and "highly" polished. I have to admit that my favorite past-time is cleaning/detailing cars. Even my lawn mower is spotless! I just feel good driving around in a clean car. It seems to slide through the air better!
This website is a release of pent up "Falcon Fever" that I have subdued for years now. When I mention to friends and family that I have a "Falcon" website, they yawn, "Oh, that's nice". Then I showed it to an old high school buddy and his words were "Jon, you have taken your Falcon obsession to a new level!" Well, I hope you think so too!
The site has been up and running for 15+ years now. I appreciate the support and shared interest in my passion and hobby!
-- Jon Shuppy --
The Ford Falcon Registry
690 W. Oak Lane
Francis, UT 84036
falconregistry@gmail.com